SARAYA releases 6 different eco-bags under the slogan "Less plastics, more ocean!" in order to decrease the amount of plastic waste of our most precious resource, water.
Saraya Co., Ltd. is pleased to announce the launch of six eco-bags with original designs in order to help reduce plastic waste and create a global sustainable society.
SARAYA, which has been working on various social problems over the years such as the environmental conservation in Borneo since 2004, is trying to help in the reduction of single-use plastics shopping bags, something still widely spread even in developed countries such as Japan, and reduce the amount of plastic and microplastic in the oceans. We hope that through the use of these 6 colorful eco-bags, that can be folded into a small pouch between uses, we can help in creating a more eco-friendly lifestyle in Japan and around the world.
The designs are based on our environmental conservation projects, with images of the wildlife of the world's seas and forests, like the Borneo Elephant or life underwater.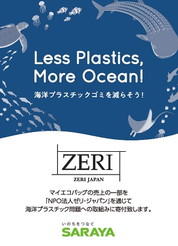 Part of the proceeds of these eco-bags will be donated to "NPO ZERI Japan", which is working closely with the Race for Water foundation on the reduction of the amount of marine plastic waste.