Polynesian Tahiti Spa Style
Refreshing your scalp

More Details Here

More Details Here
Body 480mL | Refill 380mL

Food-grade high
quality extra-virgin
coconut oil
Contains organic extra-virgin Coconut Oil to moisturize, shine and protect, leading to a hair that is strong, silky and shiny from the core.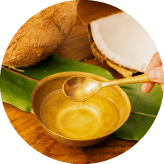 Monoi de Tahiti,
a tropical spa beauty ingredient
A fragrant oil that has been passed down in Tahiti since ancient times. Used in the traditional Tahitian Natural Polynesian Spa, it contains a rare beauty oil that is highly moisturizing and protects your hair and skin from dryness or damaging dryness.