Steps taken to introduce Alsoft a
-

W

HEN DID YOU

HEAR ABOUT
I first heard about Alsoft A over 15 years ago. I had heard from other alcohol disinfectant manufacturers that its formulation is excellent, and I was always very curious about it. Then, finally, in 2018, with the recommendation of the Ministry of Health, it was adopted by the hospital. This was just the year before the global pandemic began.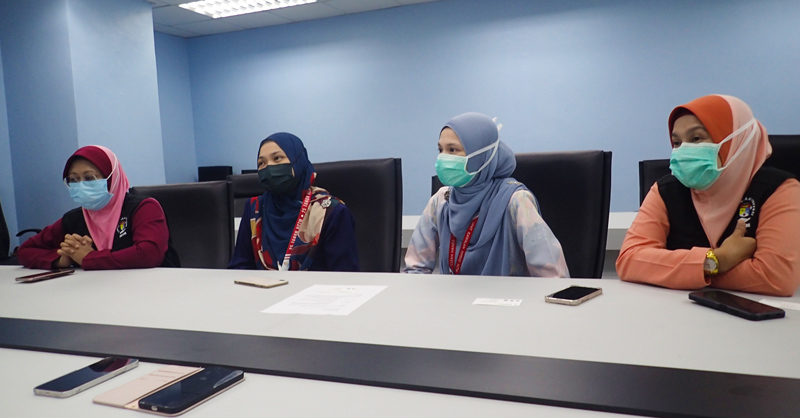 From left, Ms. Puan Zurina Mohamad Saleh, Dr. Nur Ayuni Ahamad Faudzi, Dr. Maliha Farah Nurhazirah, and Ms. Siti Rokiah Yusof.
After the introduction of alsoft a
- WHAT DID YOU FEEL AFTER USING ALSOFT A?
I like that it is not sticky after use. It dries quickly and makes it easy to move on to the next procedure. Although it does not feel sticky, it is moisturizing. Particularly during the pandemic, alcohol-based hand rubs from various manufacturers became available, but they sometimes caused roughness and cracking of skin on the hands. In this regard, Alsoft A was highly effective in moisturizing, and even after frequent use, skin cracks did not occur, and the product could be used with peace of mind. We often hear from students and residents that Alsoft A is well tolerated, and they like the texture of it.
- Where do you place alsoft a?
We have placed Alsoft A in every area considered necessary, such as clinical wards, the outpatient area, and the pharmacy counter to provide patients and health care workers with immediate access to hand disinfectants.
| | | |
| --- | --- | --- |
| | | |
| Alsoft A on the information counter. | Alsoft A on the table for filling out medical questionnaires. | Alsoft A on each cashier counter. |
- WHAT TYPE OF HAND HYGIENE EDUCATION/TRAINING ACTIVITIES ARE YOU ENGAGED IN?
We train about 4,000 people in hand hygiene, ranging from staff members, residents working in the hospital, and students. We teach them how to wash their hands, how to hand rub, and when to perform hand hygiene. The techniques themselves are simple and easy to follow, but it is difficult to get everyone to make it a habit. We conduct regular assessments and repeat the instructions.
-

A

RE THERE ANY ACTIVITIES THAT ARE PARTICULARLY EFFECTIVE FOR YOUNG
| | |
| --- | --- |
| | We had a TikTok competition for the World Hygiene Day campaign. Each department had to create a TikTok video promoting hand hygiene. The department with the most interesting video was the winner. The young staff members and students took the lead in creating the videos and made the competition a lot of fun. It was a great opportunity to learn the importance of hand hygiene. |
-

D

O YOU HAVE ANY TRAINING

FOR

PATIENT

S

?
Yes, we have a hand hygiene booth set up in the hospital and occasionally hold hand hygiene events for patients and their families. Children's events are especially popular, and we sing hand hygiene songs together, give quizzes, and prepare prizes. We hope that it is a good chance to learn about hand hygiene in a fun way.
NEXT STEP
- WHAT IS YOUR NEXT STEP?
The goal is to maintain a high hand hygiene compliance rate among students and staff members at all times. Because of these efforts, hand hygiene compliance rates have increased over the past two years. We will continue to promote the Hand Hygiene Relay to ensure that hand hygiene becomes a routine medical practice for all of us.