When baby's skin care is what a mom is concerned about, washing and moisturizing is not enough.
In addition to moisturizing, choosing the right detergent for washing towels and underwear, which come into direct contact with your baby's skin, is also an important part of skin care. If synthetic surfactants and other ingredients remain on the surface of the cleaned piece of clothing, they can be dissolved by sweat and cause skin problems. All arau.baby products are additive-free, making it easy on both babies and mothers, protecting them from washing to moisturizing.
There are no set rules for the labeling of "no additives."
It's important to choose understanding what makes a product additive-free.
※arau.baby is free of synthetic petroleum-based surfactants, synthetic fragrances, colors and preservatives.
Wash your baby gently and thoroughly with baby soap to remove dirt and sweat that can cause skin problems. Then, moisturize the skin with gentle, non-additive lotions. Finally, wrap your baby in a soft, fluffy towel or clothing washed with laundry soap. That's arau.baby's skin care to achieve ultimate gentleness, protecting your baby's skin.
Your baby's skin is thin, dry and delicate
You may think that babies' skin is so soft and plump that they don't need any special care! Actually, the fact is that their skin is only half as thick as adult skin (about 1 mm), produce less sebum, and their barrier function is still immature. In addition, while the head, forehead and eyebrows are rich in sebum during the first month of life, the cheeks and stomach are very dry.
Moreover, because the skin is so thin, it is easily irritated by the rubbing of clothing and diapers, and dirt, germs, and other allergenic and irritating substances can enter through the broken barrier function. In addition to washing, cleaning, and moisturizing, it is important to choose the right detergent to keep your baby's skin healthy.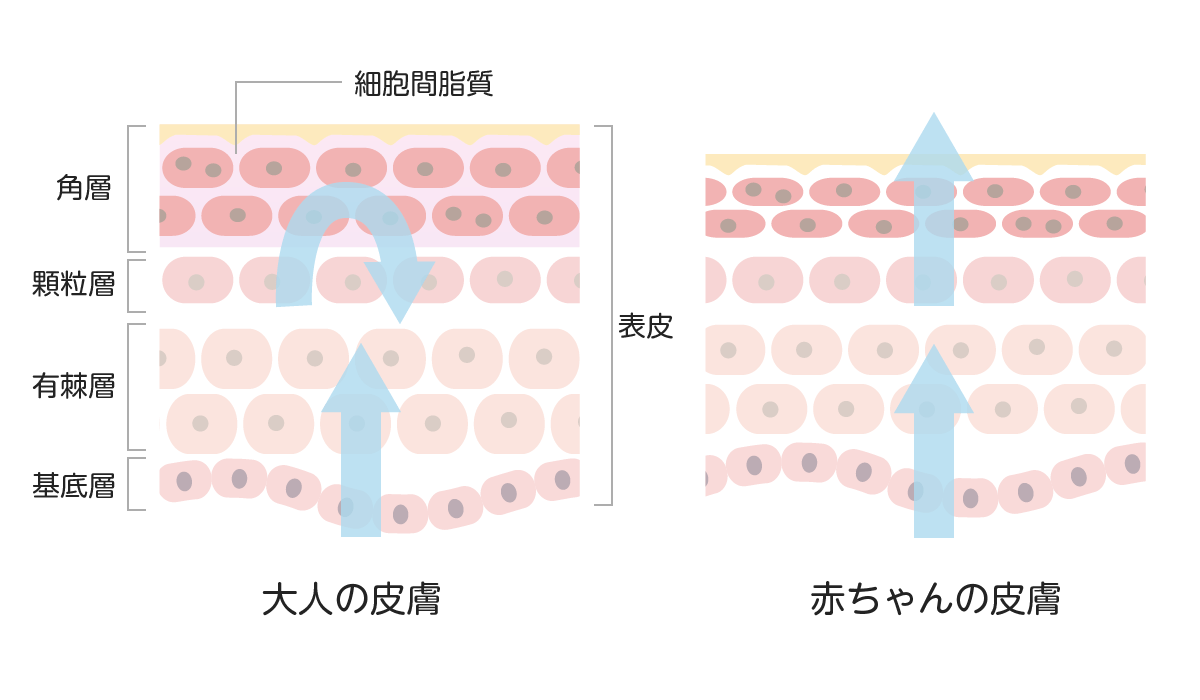 The best time to start taking care is right after birth
You may wonder, wouldn't it spoil the skin if you had to provide daily moisturizing care to your newborn baby? However, it is scientifically proven that using a moisturizer for infants and toddlers can reduce the incidence of atopic diseases. Moisturizing is especially important for the baby's delicate skin, which is prone to problems. Clean and dry the baby's head and forehead, which are rich in oil, and moisturize the entire body with lotions and creams, especially the dry cheeks and stomach.
※It has been scientifically proven that the use of moisturizers in infants reduces the incidence of atopy.
Kenta Horimukai et al. J. Allegy. Clin. Immunol., 34(4), 824-830 (2014)
※Depending of the season and the individual there are variations of moisturizing needs, so keep an eye on your baby's skin.
The key to skin care
The key to keeping your baby's delicate skin healthy is to wash it clean and moisturize its skin, protecting it from skin problems. arau.baby also considers the choice of detergents to wash the towels and clothing that wrap your baby to be an important part of skin care.
Cleaning the skin: Wash gently and clean thoroughly.
Moisturizing is important: Moisturize well to keep the skin soft and prevent dryness.
Newborn babies' skin
have oily and dry parts
Let's take a look at some of your baby's dirty and delicate areas and how to take care of them.
Scalp and
forehead

High sebum and sticky.

※Gently wash other areas that have a lot of sweat stains.
Cheeks

Low sebum, it's easily irritated and gets flaky.
Stomach

Little or no sebum, it's prone to irritation.