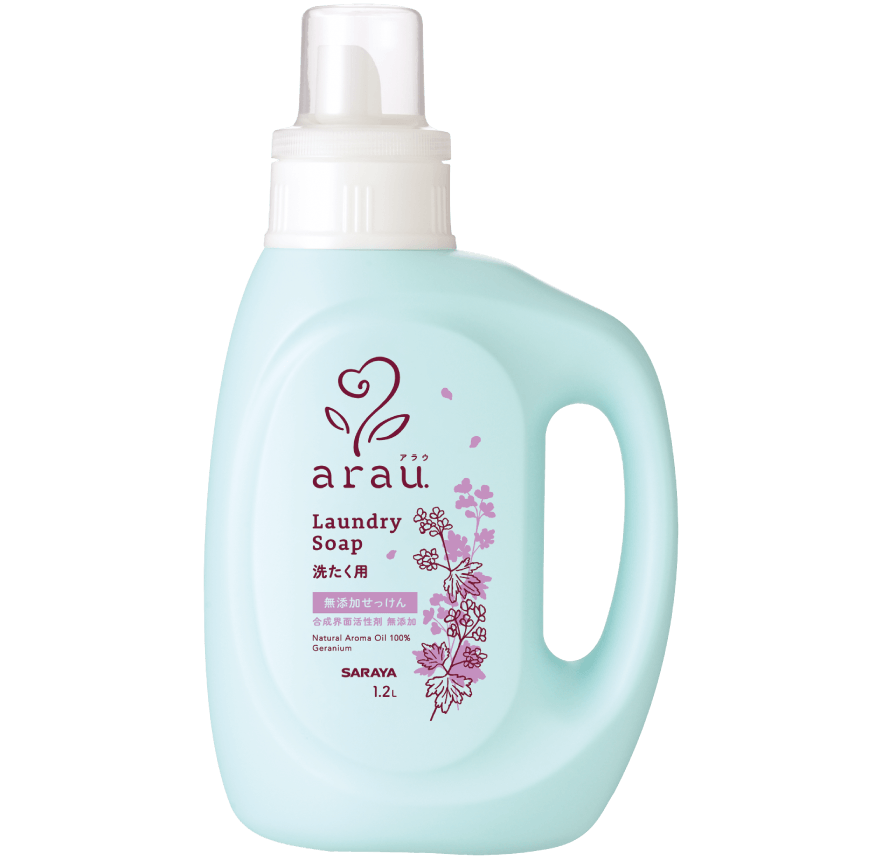 ※Contains rose geranium extract.
Contains ylang-ylang, lime and lavender essential oils and extracts for odor removal.
※Contains no LAS, High Grade Alcohol Synthetic Surfactants, phosphates, edentate (sequestering agents), or artificial additives such as colors, fragrances and preservatives.
arau. Geranium Laundry Soap
Bottle 1.2L|Refill 1L
arau. Laundry Soap could not be any easier to use. Just pour directly into the washer, and the highly soluble liquid soap quickly dissolves to wash stains out. Rinsing couldn't be faster either.
arau. Geranium Laundry Soap is a new addition to the arau. family with an all new fragrance to revitalize your laundry and your home.
| | |
| --- | --- |
| Product | Laundry Soap |
| Application | Cotton, hemp, synthetic fabrics |
| pH | Mildly alkaline |
| Ingredients | Pure soap (30% potassium salts of fatty acid) |
| Usage Volume | 50mL per 30L of water |
With arau., you can keep your laundry soft and fluffy without using fabric softener
The additive-free, herbs formulation of arau. Keeps your laundry soft and fluffy without the use of a softening agent.
Recommended for cleaning baby clothes, diapers and clothes of those with sensitive skins.

A softness you've never experienced from a laundry soap!
arau. Laundry Soap leave clothes silky soft without the use of fabric softeners. Tests show that arau. will make your laundry fluffier and softer.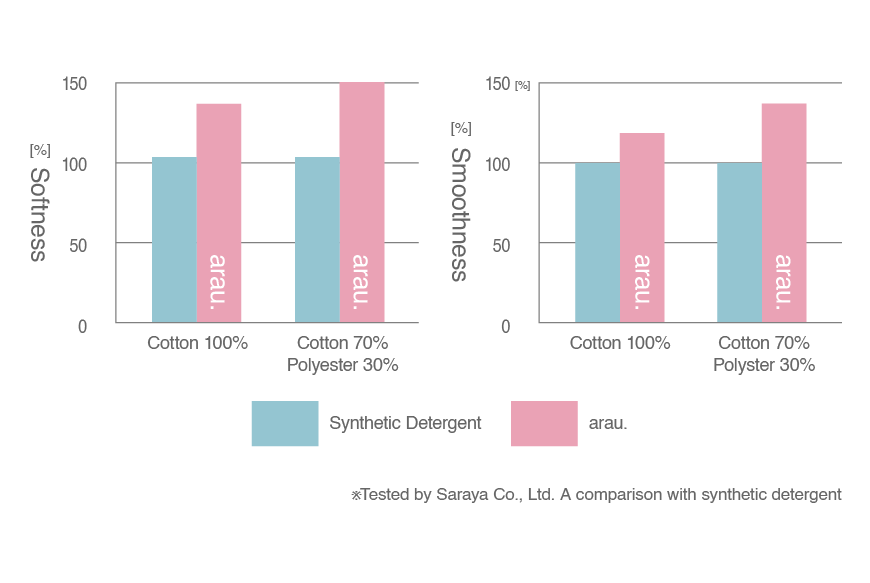 Contains botanical ingredients, free of synthetic additives
Gentle, pure botanical soap made from palm and coconut oils, with no petroleum or animals fats. Without synthetic surfactants, fragrances, colors or preservatives, arau. is truly a safe laundry soap for all the family. Also, all arau. Products contain no edetate (sequestering agents), fluorescent whitening agents, or anti-oxidizers. Only real soap and natural essential oils.
The power of real soap
Soap is a kind of surfactant.
Surfactants are the agents that lower the interfacial tension between two liquids. For example, interfusing water and oil so as to remove the dirt easier.
Among the variety of surfactants, soaps are not less detergency than others.
arau. is made from well-selected materials that match well for each specific area. With its rich foam arau. can remove dirt in a excellent manner.
The difference between hybrid soaps and pure soap
arau. Laundry Soap is 100% pure soap, which means it does not contain any additives such as synthetic cleaning agents, known as surfactants. While there are products out there that contain soap and detergent, arau. is 100% pure botanical soap, which is why it is so gentle and safe. Cleaning products with 30% or more soap plus other synthetic detergents are known as hybrid soaps and those with less than 30% soap fall into the category of synthetic detergents.
Easy-to-use & highly soluble liquid soap
Just put arau. Laundry Soap into washer at the start of the cycle for a clean, soft laundry.
With an excellent solubility, arau. Laundry Soap quickly and cleanly rinses away, perfect for those that simply want to get their laundry done.
Keeps fabric colors safe
Any type of laundry cleaner may cause yellowing if oil from the skin and sweat is not properly rinsed from the clothes. Because arau. contains no whiteners or fluorescents, your clothes are able to return to their original fabric color.
Like any detergent, arau. should be carefully measured and applied directly to tough stains. A small bit of care can lead to great laundry results with arau.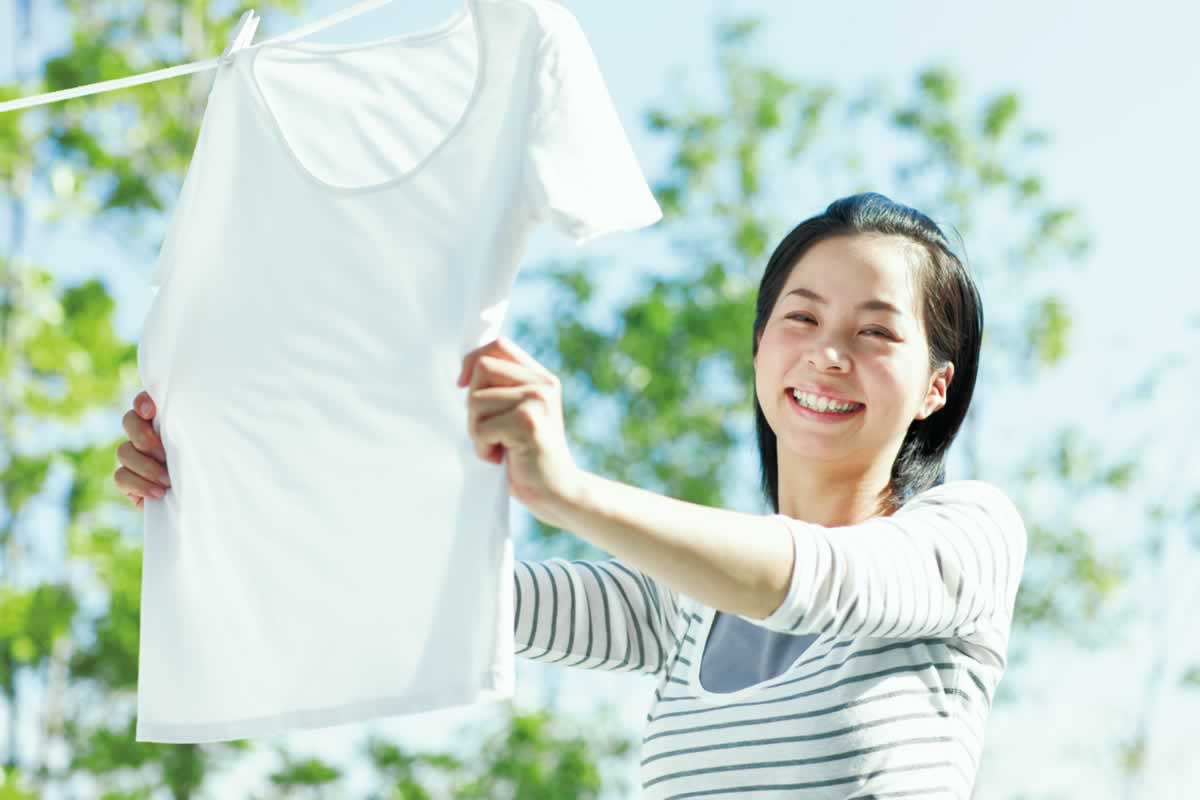 Use together with Laundry Conditioner to protect from yellowing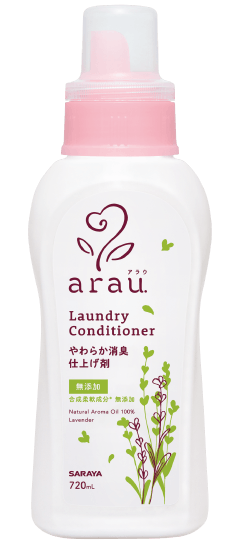 By using arau. Laundry Conditioner together with arau. Laundry Soap in the wash cycle, the added power of citric acid will keep the fabric fresher and will not fade to yellow. Not only that, arau. Laundry Conditioner keeps fabrics soft and fluffy like the day you bought them.
arau. Laundry Conditioner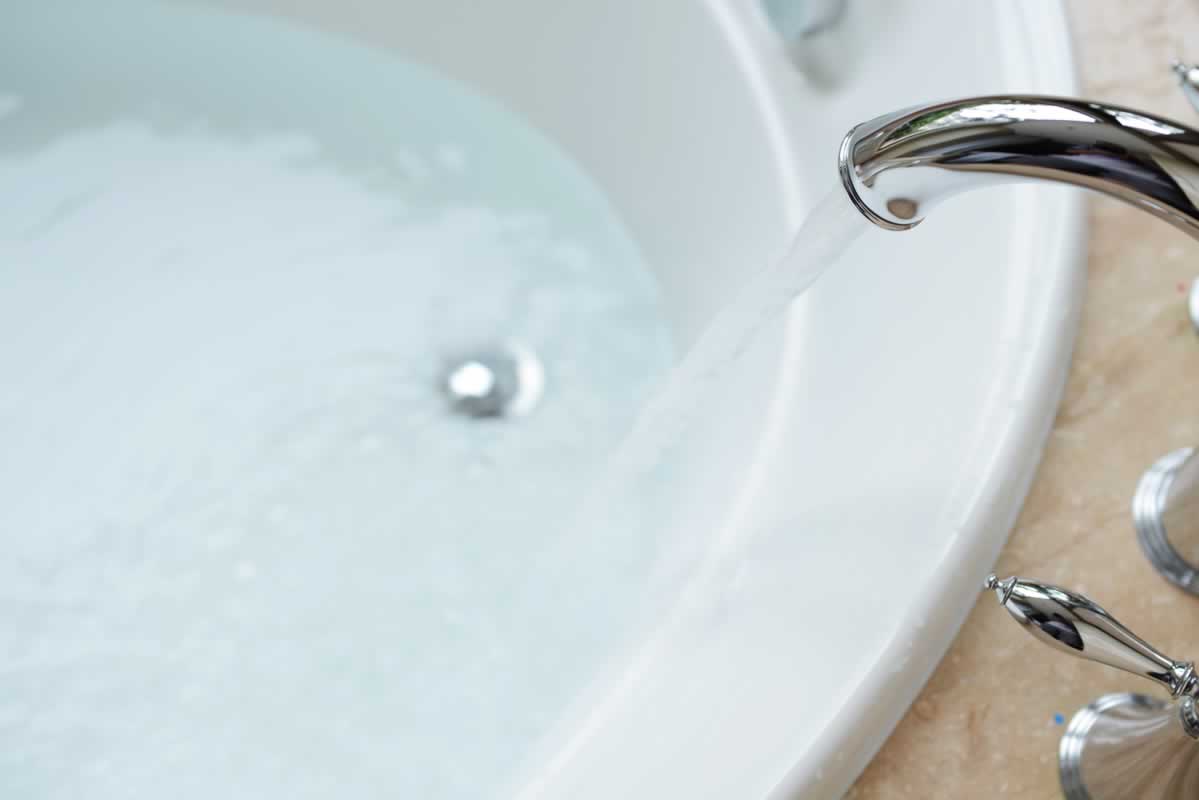 Re-using tub water to do the laundry
Water left in your tub can be used in your machine machine as a convenient water source that takes the environment into consideration. With just a final rinse with tap water any dirty flows away with no trace.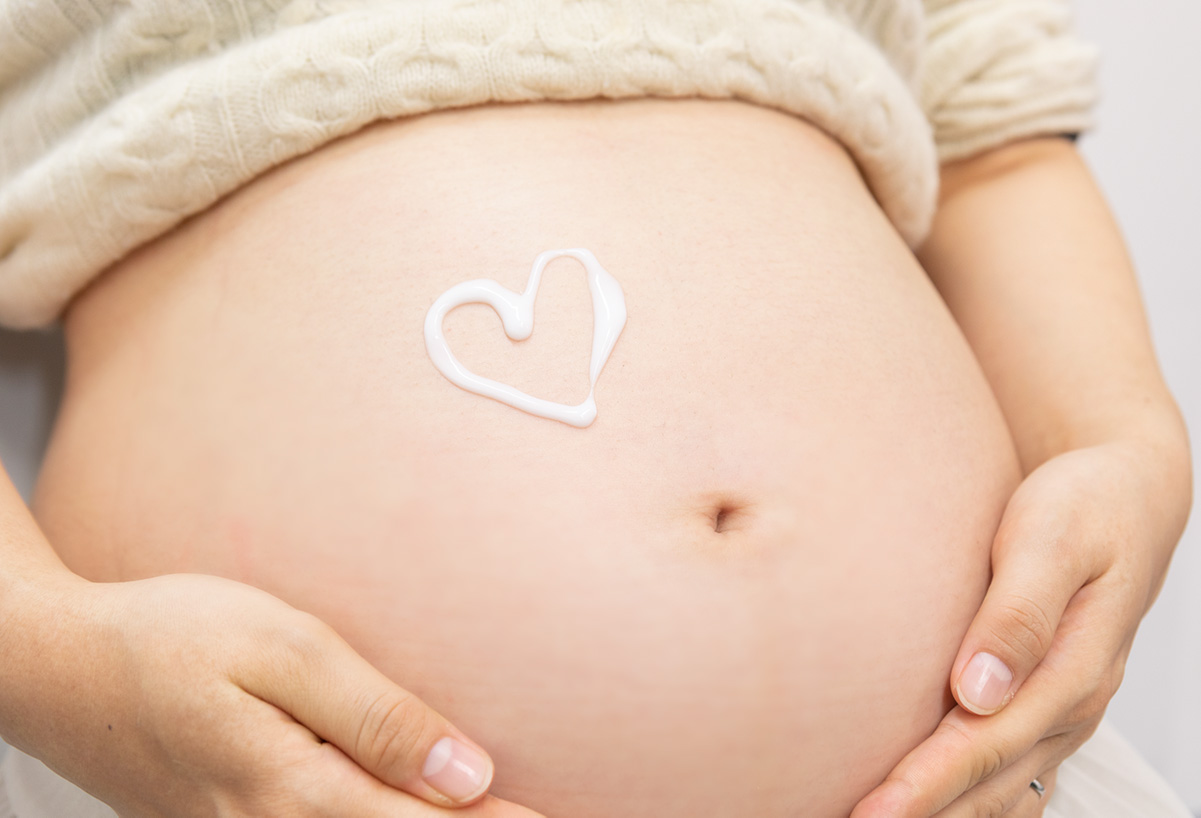 Childbirth Preparation and Baby Milestones's Products
For Pre-Moms and New Moms.
We've put together a list of items we recommend for baby care, from your first pregnancy till they are 1 year old. As your baby grows, you can prepare the items you will need!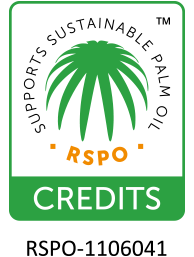 Use and Promotion of Credited Palm Oil
The palm oil used in this product is credited RSPO palm oil, made with consideration of the environment and protecting human rights of the workers where it was made. We are actively working to incite others to join us in the use of this oil.