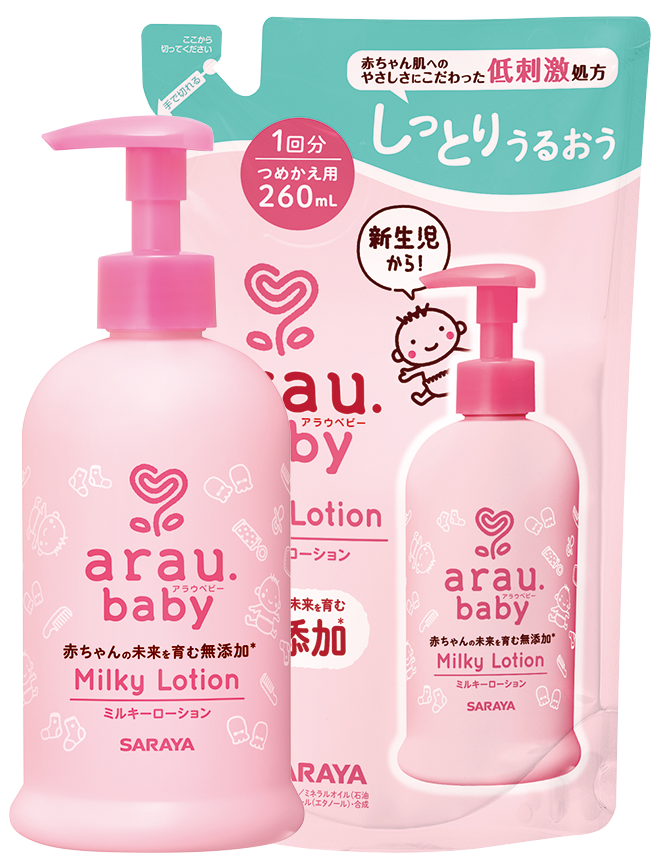 ※Dermatology tested for infant safety.
(It does not guarantee all safety.)
※Skin sensitivity tested, skin allergy tested
(It does not guarantee it does not cause skin irritation for all people.)
arau.baby

Milky Lotion

120mL 300mL

Low-irritative, additive-free milky lotion for babies' delicate skin. Considering babies' skin sebum balance, we strictly chose botanical oils, paying special attention to their natural emulsifying agents.

Soft and smooth, it can be used all year round.
Free from

Petroleum based synthetic surfactants

Mineral oils (petroleum based)

Silicon

Paraben

Alcohol (ethanol)

Synthetic fragrances

Coloring
| | |
| --- | --- |
| Ingredients | Water, Glycerin, BG, Jojoba seed oil, Squalane, Macadamia seed oil, Hydrogenated Lecithin (soy based), Carbomer, Hydrolyzed palm sophorolipids, (Acrylates/C10-30 alkyl acrylate crosspolymer, Potassium hydroxide, Lavandula angustifolia (Lavender) oil, Phenoxyethanol, Tocopherol |
Designed around safety and gentleness
We focused our efforts on creating the safest, gentlest lotion to protect the delicate skin of your baby.
arau.baby Milky Lotion does not contain petrolem-based synthetic surfactants or petroleum-based mineral oils. It uses biofermented "soforolipid" (Hydrolyzed palm sophorolipids), a natural emulsifying agent.
What is Soforo?
Soforo is a natural component made from fermentation of botanical oil (palm oil) and sugar by natural yeast.
It is an extremely gentle component that can even be used for foods and cosmetics.

Moisturize with the gentleness of plant extracts
Formulated with 100% botanical oil (jojoba seed oil, macadamia nut oil, and squalane [olive-derived]), strictly chosen for babies' balanced skin sebum. Organic lavender essential oil and botanical oils help moisturize the skin.
Highly moisturizing yet soft and smooth, it can be used for daily skin care from newborns for daily skin care.

Skin care for babies
Babies usually look like they have healthy skins because of their pudgy looks, but babies' skins are much thinner than adults (around 1mm). Also, they have less natural oils, which allows the skin to dry out much easier, facilitating the entrance of allergens and irritants into the skin.
It is very important to use a low-irritating baby lotion every day to reduce irritation and increase the barrier function of the skin.
arau.baby Milky lotion does not contain any ingredients that could cause irritation and it is highly moisturizing, soft and smooth.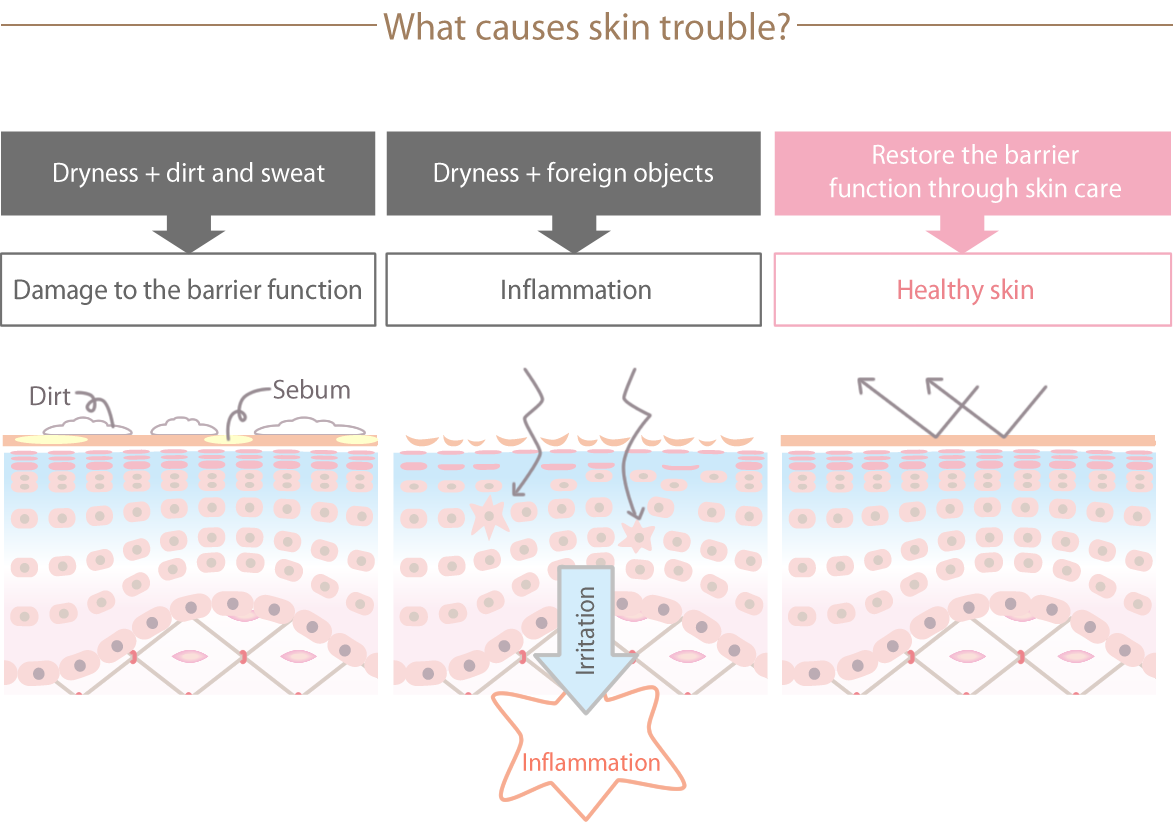 arau.baby "3 step" skin care
arau.baby proposes ""3 step"" skin care, which is to wash with arau.baby Foam Body Soap to remove dirt and sweat, which can cause skin trouble. Then to moisturize with additive free arau.baby Milky Lotion.
And finally, wrap with towels or clothes washed in natural arau.baby Laundry Soap.
This is arau.baby skin care method that focuses on gentleness in babies' skin.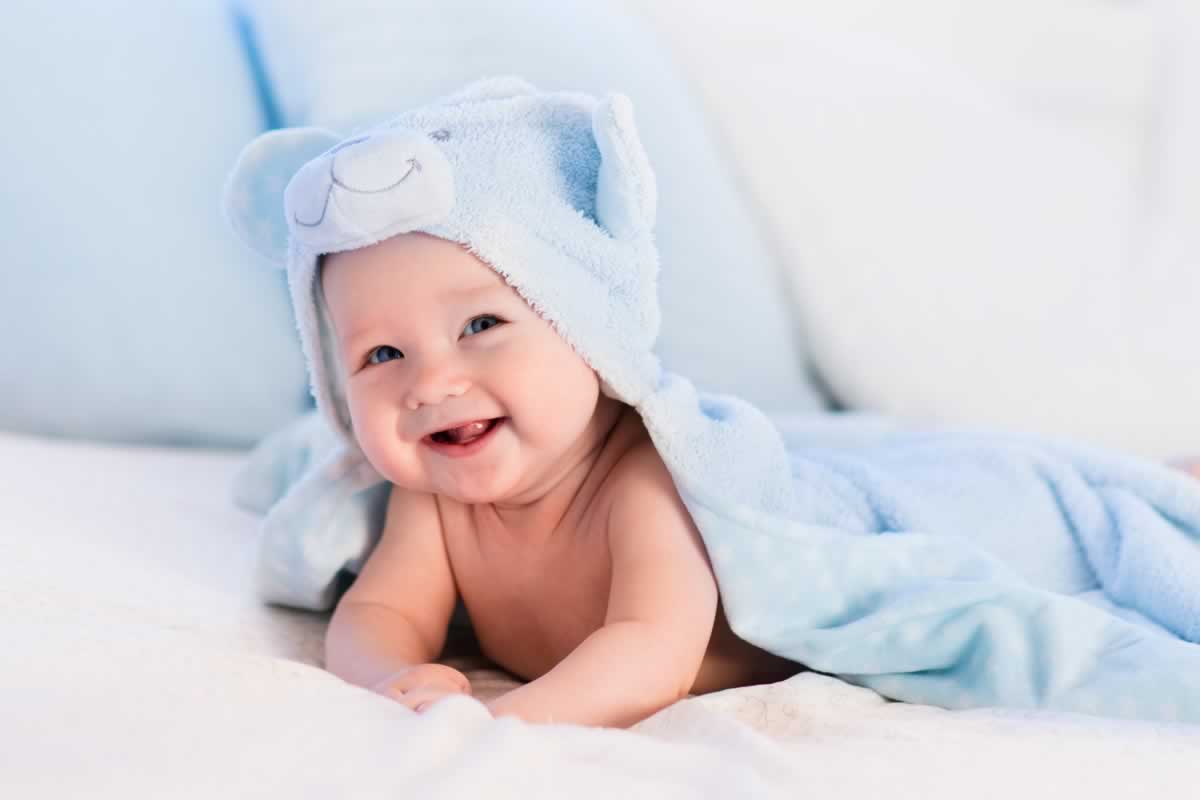 When should I start skin care for my baby?
Generally speaking, newborns have a fairly oily skin, by at 3 months they begin to produce less oil, so it is recommended to start applying lotion around then. However, when the air gets dry in the winter, it is a good idea to apply lotion for babies from 2 to 4 months old.
Also, until about 2 months old, newborns seem to produce an abundance of oil, but in reality, it is only abundant in their forehead. Their cheeks and stomach are still dry, so they need to be moisturized.
Babies' skin differ by season and individual, so be observant of your baby and moisturize to help them strengthen their skin's barrier function.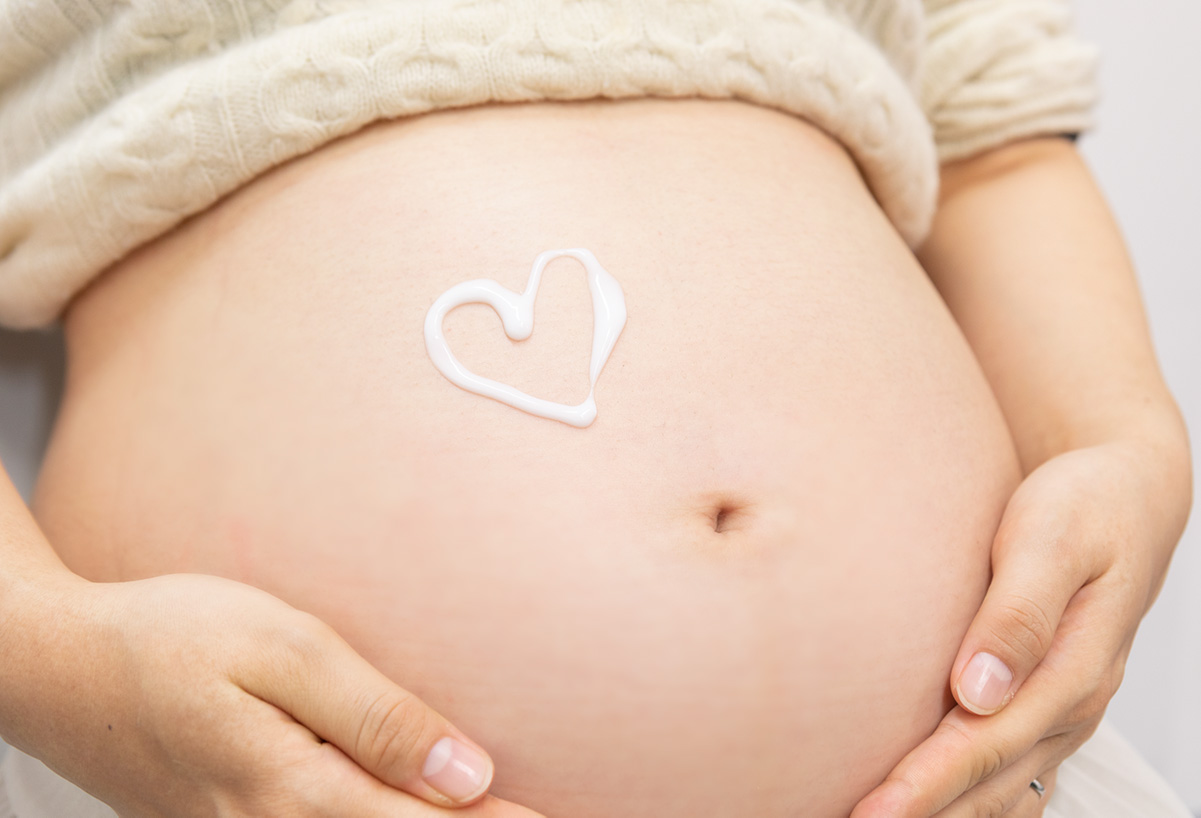 Childbirth Preparation and Baby Milestones's Products
For Pre-Moms and New Moms.
We've put together a list of items we recommend for baby care, from your first pregnancy till they are 1 year old. As your baby grows, you can prepare the items you will need!