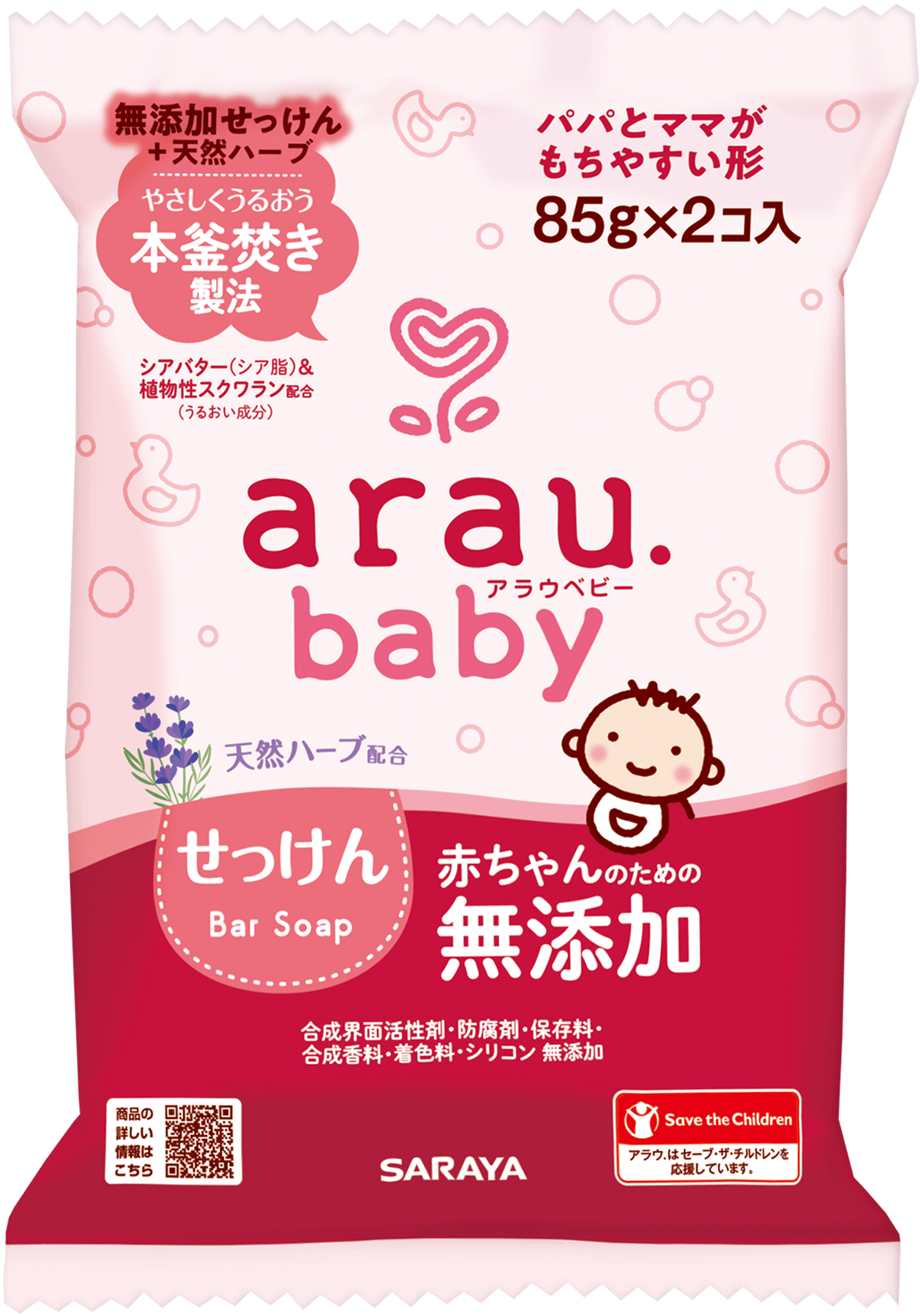 ※Contains essential oil of lavender and natural extracts of shiso and rosemary for moisturizing skin.
※Skin irritation, allegy tested.
(Does not eliminate the possibility of skin irritation for all users)
arau.baby

Bar Soap

85g x 2 pcs

arau.baby Bar Soap is made in the traditional manner of kettle cooking. This bar soap perfectly fits in the hand of mothers and fathers, easily foams, cleans and rinses away. Comes with two bars in one package.

Contains shea butter and olive squalane for natural humectants.
Free from

Petroleum based synthetic surfactant

Preservatives

Synthetic fragrances

Coloring

Silicon
| | |
| --- | --- |
| Ingredients | Soap base, water, Shea oil, squalane, lavender oil, Japanese Shiso extract, rosemary extract, glycerin, sodium chloride, tocopherol (vitamin E), BG |
Creamy foam that easily rinses away
Too much rinsing washes away too much of the natural moisturizing factors on your baby's delicate skin. The foam from arau.baby Bar Soap rinses away cleaning and quickly, not leaving a slippery feeling after washing like you would find with synthetic soaps, which don't rinse well.
The creamy foam of natural plant-based soap tenderly cleans without added chemicals or scrubbing.
Rich, moisturizing formula with exclusive ingredients
Squalane from shea butter and olive oil provided extra moisture to baby's skin while washing. Each package of arau.baby Bar Soap contains two bars of soap in an easy to handle size.
Natural moisture
Brought out with traditional soap-making
Traditional kettles are used to slowly create soap.
Kettle-made soaps with plant oil are high in moisturizing quality, thanks to natural glycerin, an excellent skin moisturizing agent, released during the soap making process.
arau.baby Bar Soap is made with this traditional method, using highly refined oil palm and coconut oil. Natural herbal essential oils are added for fragrance and added cleaning effect.
Tested for skin irritation. Safety guaranteed.
Synthetic additives used in face washes, body soap and other cosmetics are formulated under strict safety standards.
However, irritation still may occur because individuals have different skin types and reactions. arau. is totally free of LAS, alcohol synthetic surfactants, synthetic fragrances, artificial colors and preservatives, which means that the possibility of developing skin allergy to its ingredients is greatly reduced when compared with other body care products.
arau. and arau.baby products are tested for skin irritation, to make one of the safest, greatest soaps you can find.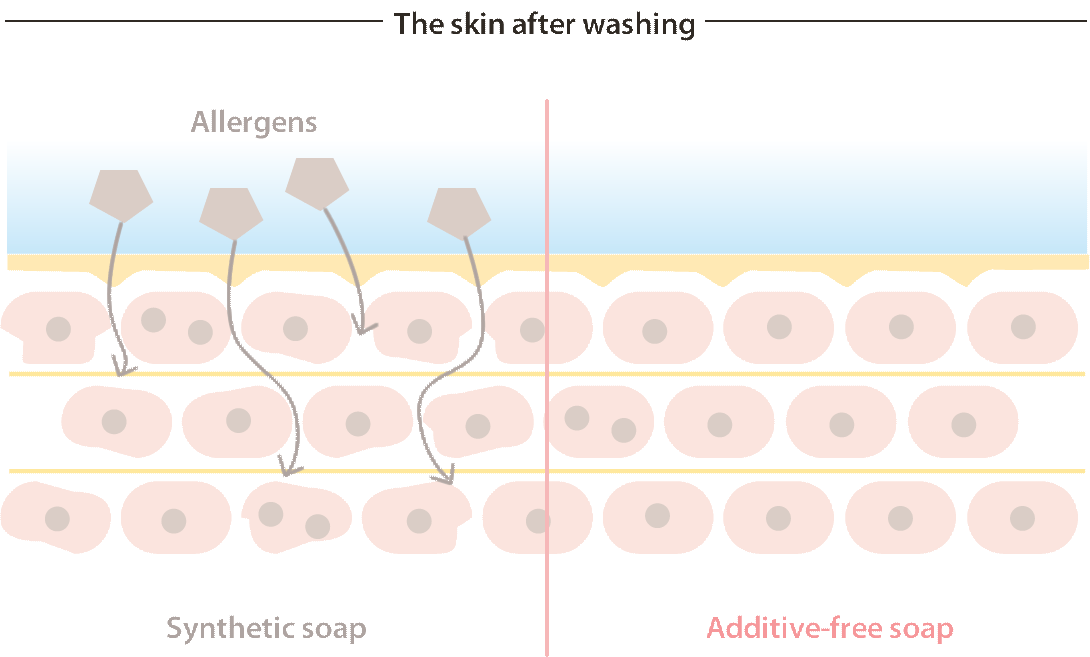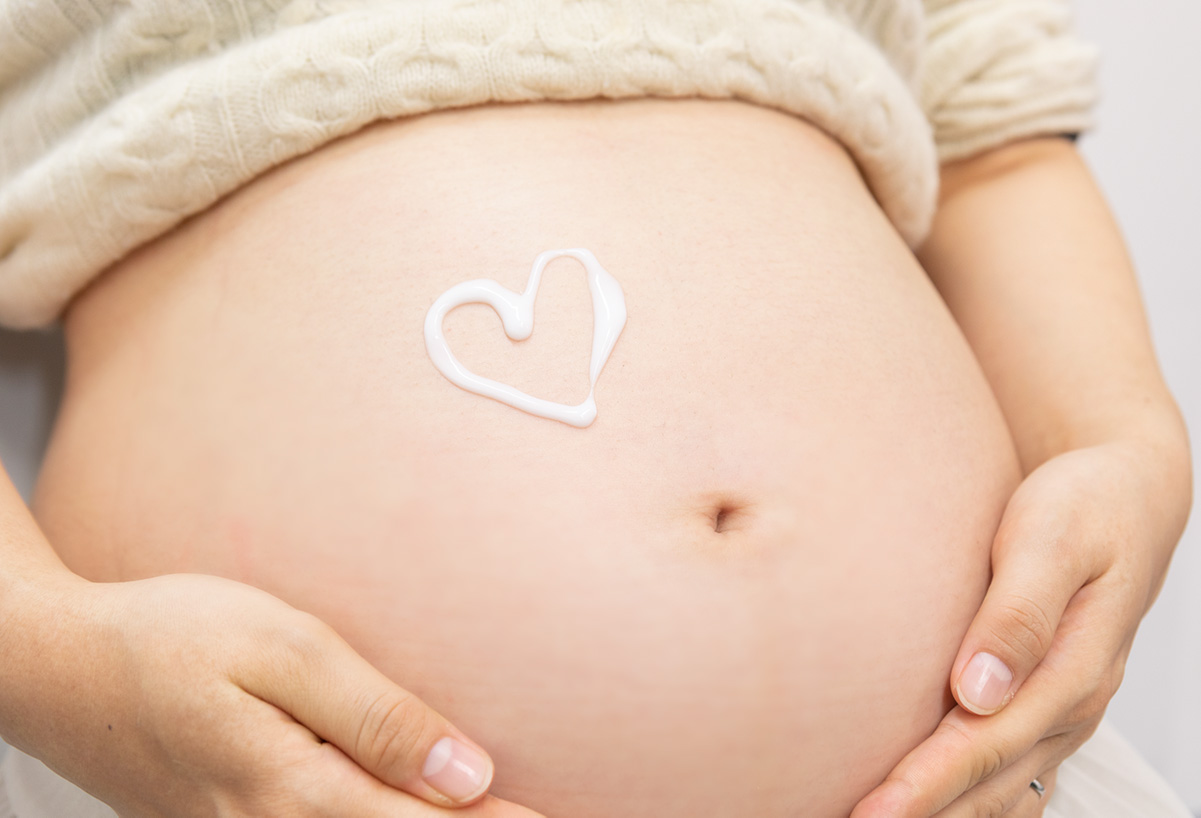 Childbirth Preparation and Baby Milestones's Products
For Pre-Moms and New Moms.
We've put together a list of items we recommend for baby care, from your first pregnancy till they are 1 year old. As your baby grows, you can prepare the items you will need!